** EXCLUSIVE ONLINE OFFER VALID UNTIL MIDNIGHT ON 09/08/2020 ON A SELECTION OF SALE PRODUCTS MARKED "FLASH SALE". DISCOUNT ALREADY APPLIED ON DISPLAYED PRICES. OFFER CANNOT BE USED IN CONJUNCTION WITH ANY OTHER OFFERS. OTHER EXCLUSIONS MAY APPLY.

*Offer valid on a selection of products marked with " Sale". Offer cannot be used in conjunction with any other offers. Other exclusions may apply.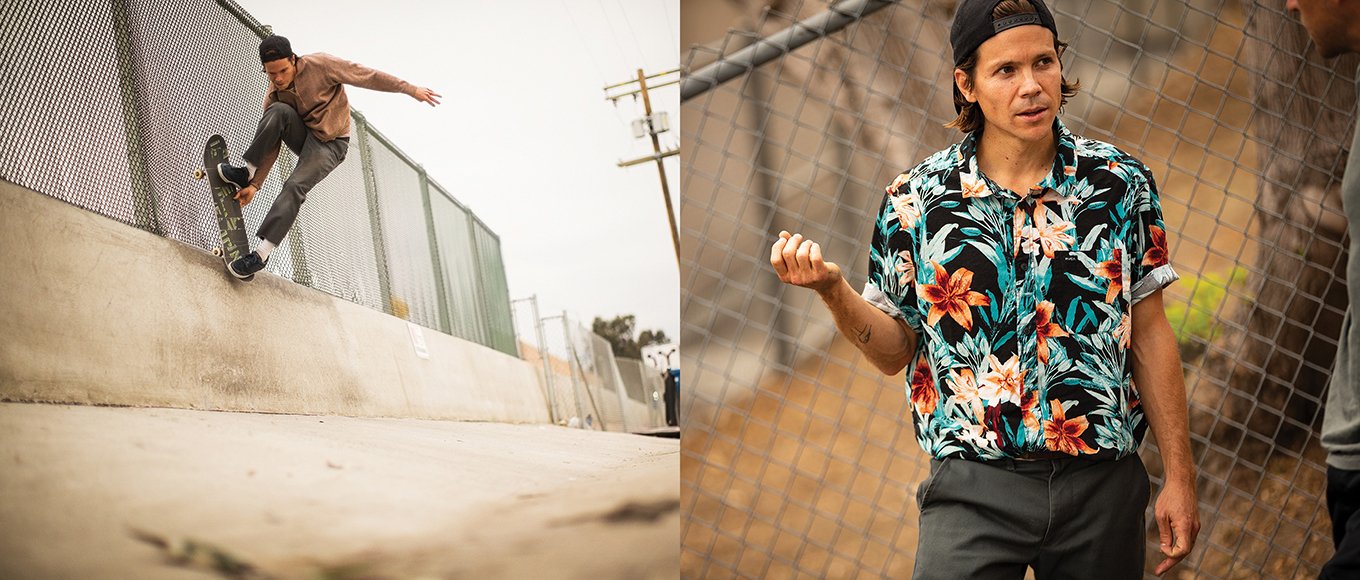 WITH HIS HIS UNIQUE AND STYLISH APPROACH TO SKATING AS WELL AS HIS CREATIVE AND ARTISTIC ENDEAVORS, KEVIN "SPANKY" LONG EMBODIES THE ORIGINAL SPIRIT OF THE RVCA SKATE TEAM. RIDING FOR BAKER SKATEBOARDS AND EMERICA SHOES, HE HAS HAD SEVERAL PARTS IN SOME OF THE MOST INFLUENTIAL SKATE VIDEOS IN THE INDUSTRY, INCLUDING BAKER 3, WHICH RECEIVED THE "BEST VIDEO" AWARD AT THE 8TH ANNUAL TWS AWARDS. AS ONE OF THE LONGEST RUNNING ADVOCATES ON THE RVCA SKATE TEAM AND CONTRIBUTING ARTISTS, KEVIN CONTINUES TO PAVE THE WAY AS A REPRESENTATION OF WHAT IT MEANS TO BE A RVCA ADVOCATE.
KEVIN "SPANKY" LONG | INSPIRED BY...
KEVIN "SPANKY" LONG, INSPIRED BY... RESILIENCE. SPANKY LOOKS BACK AT HIS HISTORY WITH RVCA AND HOW IT'S INFLUENCED HIS APPROACH IN SKATING AND LIFE AS A WHOLE.

VIDEO BY BRANDON JENSEN.
KEVIN "SPANKY" LONG | MADE CHAPTER 2 B-SIDES
KEVIN "SPANKY" LONG GETS HIS LEGS BACK IN EMERICA'S MADE CHAPTER 2 VIDEO. HERE'S TO THE B-SIDES.