* Cyber Monday: an extra 30% off all Good Deals
Offer valid until 30/11/2022 midnight on all discounted products, marked "Cyber Monday", excluding products from the new collection and external brands. Other exclusions may apply. Offer cannot be combined with any other commercial operation in progress. Offer valid exclusively online. The displayed price already takes the discount into account.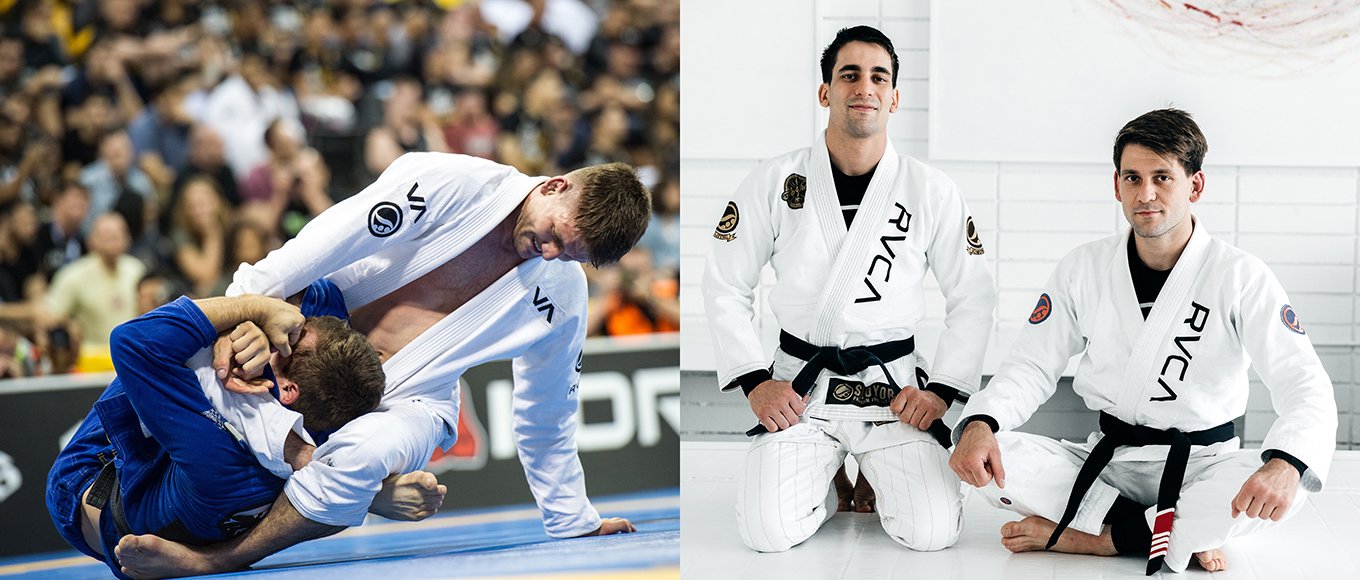 GUILHERME AND RAFAEL MENDES WERE BORN IN RIO CLARO, A CITY IN THE STATE OF SAO PAULO, BRAZIL AND WERE INTRODUCED TO JIU-JITSU BY A FAMILY MEMBER WHEN THEY WERE 12 AND 11 YEARS OLD.THEY PICKED UP THE SPORT VERY QUICKLY AND SOON BEGAN TO TAKE A MORE SERIOUS APPROACH WITH THEIR TRAINING. THIS DECISION ULTIMATELY PAID OFF AS BOTH BROTHERS BEGAN TO ACHIEVE TREMENDOUS SUCCESS AT THE TOP COMPETITIONS IN BRAZIL.

TODAY "RAFA" AND "GUI" ARE MULTIPLE TIME WORLD CHAMPIONS AT THE BLACK BELT LEVEL AND OWNERS OF THE MOST UNIQUE TRAINING FACILITY IN THE WORLD, THE ART OF JIU-JITSU ACADEMY IN COSTA MESA, CA.THEY ARE CONSISTENTLY CHANGING THE GAME WITH THEIR INNOVATIVE TECHNIQUES AND STAYING AHEAD OF THE COMPETITION WITH THEIR RELENTLESS WORK ETHIC. DEDICATED, CREATIVE, AND PASSIONATE, THE MENDES BROTHERS ARE THE EPITOME OF TRUE MARTIAL ARTISTS. ---> BELIEVE & ACHIEVE
RAFAEL MENDES | MY LEGACY
"I'VE DEDICATED THE PAST 16 YEARS OF MY LIFE TO JIU JITSU. BECAUSE OF THIS ART I HAD THE OPPORTUNITY TO TRAVEL THE WORLD, MEET PEOPLE THAT I NEVER THOUGHT I WOULD MEET, AND COMPETE AGAINST THE PREVIOUS CHAMPIONS THAT INSPIRED ME TO PUSH MYSELF HARDER EVERYDAY. I'VE WON THE WORLD CHAMPIONSHIP 6 TIMES, ADCC TWICE AND CEMENTED MYSELF AS THE GREATEST FEATHERWEIGHT OF ALL TIME. THERE'S NOTHING LEFT TO PROVE. SOME MAY SEE THIS IS A AN END, BUT FOR ME IT'S THE BEGINNING OF SOMETHING NEW. THE SAME DEDICATION AND PASSION THAT I PUT TOWARDS MY COMPETITION CAREER WILL NOW BE REFOCUSED TO OTHER ASPECTS OF MY LIFE." - RAFAEL MENDES

VIDEO BY CHANGE FOR BALANCE.
INSIDE THE MIND OF RAFAEL MENDES
GO INSIDE THE MIND OF 6X WORLD CHAMPION RAFAEL MENDES AS HE SITS DOWN WITH FORMER UFC FIGHTER KENNY FLORIAN AND DISCUSSES HIS MOST RECENT WORLD TITLE AT THE 2016 IBJJF WORLD CHAMPIONSHIPS. RAFAEL ALSO TALKS ABOUT HIS COMPETITION MINDSET, HIS APPROACH TO JIU JITSU AND WHAT HE FEELS SETS HIM APART.

VIDEO BY CHANGE FOR BALANCE.
ROAD TO 6X | RAFAEL MENDES
LAST YEAR, RAFAEL MENDES WON HIS FIFTH WORLD TITLE IN THE BLACK BELT DIVISION CEMENTING HIMSELF AS THE MOST DECORATED FEATHERWEIGHT IN JIU JITSU HISTORY. THE "ROAD TO 6X" CHRONICLES RAFAEL MENDES IN THE WEEKS LEADING UP TO THE 2016 IBJJF WORLD CHAMPIONSHIP WHERE HE AIMS TO CAPTURE HIS 6TH WORLD TITLE.

VIDEO BY CHANGE FOR BALANCE.
MENDES BROTHERS | ABU DHABI
RVCA ADVOCATES MENDES BROTHERS JUST RETURNED FROM ABU DHABI WHERE THEY COACHED THE AOJ TEAM IN THE WORLD PRO 2015. CONGRATS TO THEIR STUDENT MASON MONSEVAIS WHO WON THE PURPLE BELT -65 DIVISION!
MENDES BROTHERS
VIDEO PORTRAIT BY BRANDON JENSEN